Have you ever planned a whole vacation trip, which completely derailed to the point where you consider it a vacation flop? Well, that's precisely what happened to us last week. Curtis wanted to take his son on a summer vacation trip, and a trip to Yellowstone was the final decision. We made all the arrangements, booked the hotels, and even found rooms at the Old Faithful Inn, which is very hard to get into during the summer.
Our bags were packed, the tickets were purchased, the rental car was reserved, and the days were planned out the way we wanted to drive, even stops we wanted to make along the way. It was finally time to head out for the epic family vacation. We flew from Lambert Airport in Saint Louis with a layover at Dever. The first half of the flight went off without a hitch. We arrived at the airport early and checked in with no problems. The kiddo even met the pilot when they found out this was his first flight. We landed in Denver and found out we had a flight delay. So we took our time getting to the next gate, stopping for snacks and something to drink. While we were "patiently" waiting for our flight to board, the tornado sirens started going off in the airport. After multiple times hearing warning announcements, the dreaded take shelter warning went off, and we all headed to the restrooms… the closest being the men's room. Thankfully, there wasn't a tornado touching down, and we soon headed back to our seats. After a 2 hour delay, we finally were back on the plane and heading for Bozeman.
The rest of the flight was uneventful. We got our luggage and loaded it up in the rental car. Our first night was in a hotel near the airport, nothing fancy, but it was clean and easy to get to. Since the weather was not great, we decided to switch up our plans and head to West Yellowstone instead of starting at the North Entrances as we originally intended. I had noticed there were river flooding warnings but didn't think about it too much.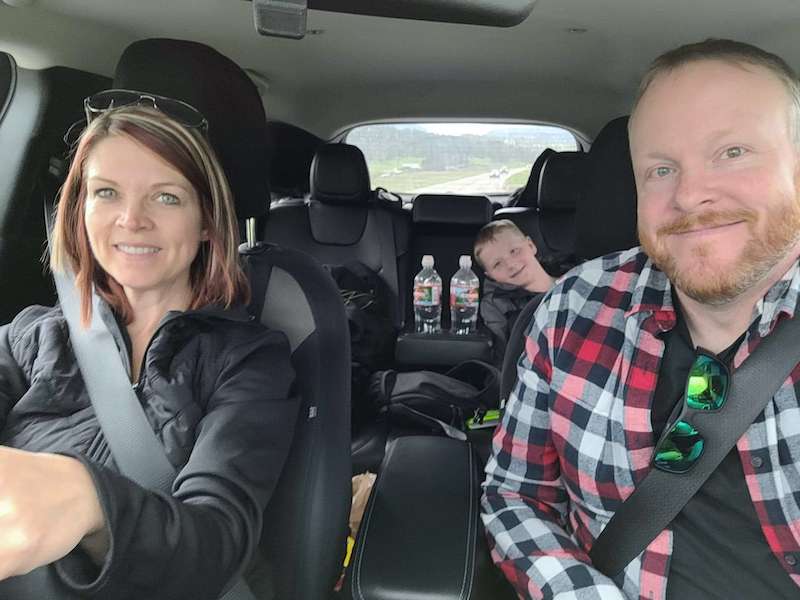 That morning, we grabbed a quick breakfast and headed to Yellowstone. We had multiple stops along the way due to the kiddo thinking he might get sick. That never happened, but it did make for an interesting drive. Also, to say the rivers were flooded was a slight understatement. The river was raging and so close to the road that I was a little concerned as I was driving. To add to the excitement of that first morning, a black bear decided it wanted to cross the road… right in front of us… I didn't want to lock up the brakes, so I was trying to slow down as quickly as possible and keep us on the road… Curtis was "hollering," Oh, Oh, Oh from the passenger side. The bear finally noticed us, skidded to a stop in the road, then headed back the way he came. We all took a deep breath and continued driving… my legs were shaking like crazy for a while after that.
We eventually made it to West Yellowstone and found a parking spot. There were tons of people around, making parking very interesting. Our plan was to first go to the museum before entering the park. While we were walking in, we heard a police officer making an announcement over the bullhorn. We couldn't figure out what he was saying, so we asked the museum attendant. This was when we discovered our vacation plans were going out the window. Due to unprecedented flooding, all entrances to Yellowstone were closed, and they were evacuating the park. As you can imagine, we were in a panic about what we would do… we had reservations to stay 2 nights at Old Faithful Inn. This started what we call the vacation pivot…. With cell phones in each hand, I tried to cancel our reservations. I was on hold with chat on one phone and voice on the other, waiting to see which one would go through first. After an extremely long wait time, I finally got through on chat and shortly after by voice because I wanted to make sure the chat was going to actually work. We canceled our reservations and started looking for another hotel in Bozeman. Finally, we booked a hotel, so we thought we would go ahead and get lunch in West Yellowstone before heading back to Bozeman. However, due to the labor shortage, most places were closed for lunch, and the open restaurants had a considerable wait time…… We had snacks in the car… Back to Bozeman, we went.
Our drive did not include a bear this time. However, part of the road was washed out due to the… you guessed it… flooding, so we waited in traffic until they could build back up the road. Finally, we pulled into the Mariot in downtown Bozeman. We checked in to what ended up being the place we stayed for the week. The room was very nice, with a kitchenette and a seating area. They had a small pool, hot tub, and a fitness room, so all parties were satisfied with where we were staying.
At this point, we still thought there might be a chance that we would still be able to drive into Yellowstone, so we changed up the itinerary, thinking Thursday would be the best day. This also meant we had 2 days to find stuff to do to entertain a seven-year-old on vacation.
We found a museum, a grizzly bear rescue center, a trampoline park (twice), a movie theater (twice), a city park, fun restaurants, and ice cream. Plus, he got to swim every day! He was thrilled. As the week progressed, we realized that due to the fact this was a historic flood, we would not be entering Yellowstone. We decided to drive to the Missouri River Headwaters. Guess what… it was closed due to flooding! Yep. But we made the best of it and stopped at Bozeman Hot Springs on our way back to the room.
Friday morning, we packed up and headed to the airport. All the flights were on time, and it looked like we were good to go… until we got on the plane and found out they overfilled the fuel tank, and we had to wait… for an hour… on the runway… We got to our connecting flight in Denver, which was surprisingly on time. We arrived at the gate while they were boarding. That flight was thankfully uneventful, and we arrived home safely.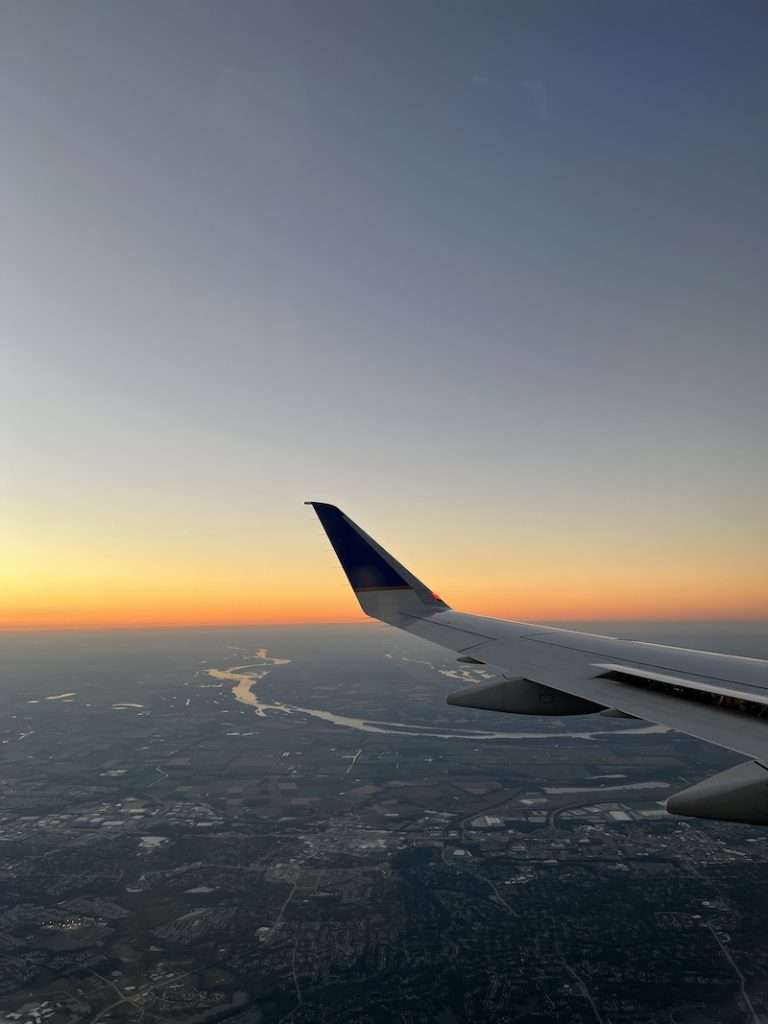 This trip taught us many things… mainly how to turn a vacation flop into a vacation pivot and don't be attached to plans!