On Monday of last week, we set out on the road to head down to NRO Campground in Lebanon, Missouri. The weather was perfect, and the winding highway was gorgeous. We were ripe for a getaway, and the ability to set up a demo for the campground was too good for me to pass up. When I got the call and was asked, "do you want to go" my answer was a definite yes!
We got on I-44 early afternoon with neither of us having had lunch yet. Pizza sounded good, and since we were passing Rolla, Alex's was the obvious choice. After enjoying a slice or two of house pizza, we stopped at the store for a few groceries then headed back out onto the open road.
Good conversations and great company made the trip fly by, and before you know it, we were taking the exit to head to NRO. Highway 64 takes you past Bennet Springs and many other campgrounds in the area. Our GPS told us the road was coming up, so we slowed down to make the turn.
On the corner of the road, we could see a few of the multiple cabins and guest houses that NRO boasts on their website. They were just as lovely in person as on their website. The drive to the actual campsite was very twisty and full of sharp turns… The perfect setting for a great campground.
We pulled up to the office around 6:30 and quickly were able to check in. Our residence for the next few nights was called Village 6. It was one of six cabins that overlooked a gorgeous hillside. Being that it was off season, the campground was on the quiet side… just the way I like it!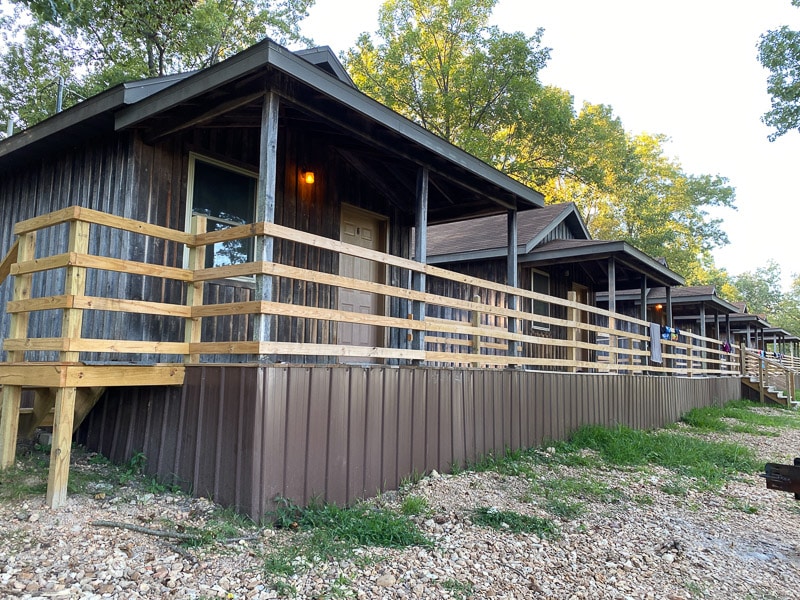 Our cabin was clean and had 2 queen sized beds, a mini fridge, microwave, and most importantly a coffee pot! The real coffee mugs were a nice treat. After we unloaded and rested for a few minutes, we decided that we wanted to stretch our legs before it got dark. In all reality, I was itching to get down to the river. We headed down a white chat gravel road and quickly found out the river was farther than we wanted to walk before dark and in flip flops.
Ice Cream sounded like a good substitute, so we headed back up to the campground store for a double scoop. Just in case you wondered, butter brickle and gooey butter cake were my two choices! There were picnic tables just outside our cabin, so we enjoyed our ice-cream while watching the sunset before heading to our room for the night.
Being an early riser, I loved being able to get up and have my morning coffee out on the picnic table while enjoying the sunrise. It was a perfect morning…. cool and oh so peaceful! Just what my soul needed.
After completing the demo, which is why we were there in the first place, we grabbed the beach bag and headed down to the river. We were told that it was a little bit of a drive with a steep hill, and they weren't exaggerating. But it was worth it! The sun was hot and the river was nice and cool. A beach towel and a book kept me perfectly content for the next few hours.
Our stomachs were starting to growl, so the discussion of where to eat commenced. As is our tradition, we asked the locals, wheres the best place to eat. That's how we ended up at the The Gravel Bar and Grill at Sand Springs Resort for a delicious burger and sweet potato fries.
The sun had started to go down, so we took our food out to the patio and just enjoyed the evening. When we got back to the campground, there might have been round two of ice cream, but I have been sworn to secrecy.
The next morning we reluctantly packed our bags to head back to reality.. these websites don't make themselves you know!
If you are in the area, check out NRO Campground and Zipline. Tell them we sent you!