Technology Driven | Community Centered​
These are the Organizations with the passion to transform their communities
— Cuba Area Chamber of Commerce
The Cuba Chamber of Commerce promotes the advancement of the commercial, industrial, and civic interests in Cuba, Missouri and surrounding areas.
— McDonald County Chamber of Commerce
McDonald County is all about local businesses delivering an experience not just a product. Our businesses in the McDonald County area are friendly and responsive striving to meet the challenges of a growing community.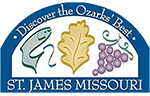 — St. James Chamber of Commerce
Located in the beautiful small town of St. James, Missouri, you will find shopping, wineries, beautiful parks, great local restaurants, and wonderful people that love our town. Does a weekend trip sound good? We have comfortable accommodations with everything you need or bring your RV and stay at one of our parks! We invite you to come visit us!
— Bourbon Economic Development Group
As group formed of Business Owners & Citizens, we hope for nothing more than to grow our economy through increased Economy. We not only desire to bring in New Business but to discover ways to help our existing Business & Industry grow & excel. Innovative in thought and Entrepreneurial in Spirit, we hope to create a town that thrives & enjoys sharing in one another's successes!
Sign up your Organization today
Designed to bring traffic to the doors of businesses, BluApps were built with community in mind.
From our team to yours we invite you to explore more about BluPort and BluCity App.