We spent a total of 4 days on the Isle of Skye! It was our longest time in one area. However, we still visited many different spots while we were there. After a wonderful night's sleep, we headed to the Fairy Pools. It was a hike back into the actual waterfalls and pools, but walking after being in the car the day before felt good! After the Fairy Pools, we drove down the road and found the Glen Brittle waterfalls. There were no other people there, and it made it extra special.
By this time, we were hungry, and I wanted to check out the small village of Carbost. We ate at Cafe Cuil, and I had the best Scotch Pancakes with rhubarb & gingernut crumble and gorse flower mascarpone!! Delicious!!! After that, we drove into the village, found a parking spot, and walked to the Caora Dhubh Coffee Company, Gaelic for Black Sheep. Later that afternoon, we hiked to Harlosh Point and climbed around the rocks.
Sunday was drizzly and dreary, and we enjoyed an entire day just relaxing and resting. After all the driving and hiking, it was exactly what we needed, especially since we would be riding the ferry to the Isle of Lewis the next day.
Monday morning, we packed for the next leg of our trip… a quick overnight stay at the Isle of Lewis so I could visit the much-anticipated standing stones! Since our ferry didn't depart until 2, we took another hike to the Rha Waterfalls at Uig. They were magical with all the forest around them! No one else was around!
After a 2 hour ferry ride, we landed at Talbert. We took a minute to ensure we knew where we were going and started our hour's drive to the Callanish Standing Stones. I found a Bnb within walking distance called Gealabhat Callanish Bed & Breakfast. We ended up staying in the Barn, one of the nicest places we rented! I was very disappointed that we had only one night!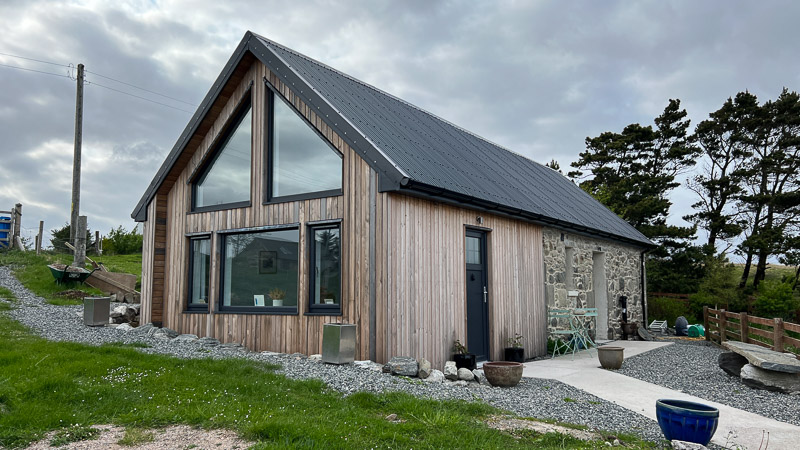 After checking into the Barn, we walked down to the standing stones… As soon as you get near, you can feel the energy! It was almost overwhelming. I walked along each stone, tracing the path of the ancients. There are 13 stones along the main circle. I wanted to return later that night in the dark, but it didn't get dark out!
We had an early ferry the following day, so after a wonderful dinner with our host and other guests, Susan and Shelia, we headed to bed, knowing that this was on my list of places to visit again!