We checked out early on Thursday morning and drove to the Glenfinnan Viaduct. I read that you must get to the parking lot early to get a spot. My boys are huge Harry Potter fans, so I thought surprising them with a video and pictures of the Jacobite Train would be cool. Jeremiah was actually awake (6 hour time difference), so I was able to Facetime him! We were there along with over 200 other people! It was a madhouse trying to get out of the parking lot.
We had booked a one-night stay at a lodge as an in-between before we went to the Isle of Skye because we thought we would be staying at the gathering until late afternoon. But by us leaving early, it allowed us extra time to explore. We stopped in Fort Williams for lunch and a bookstore, then drove to the Great Glen Way View Point. It was another beautiful forest where we took our time exploring.
Our accommodations for the night were at the Corriegour Lodge Hotel, an 1800s Victorian Hunting Lodge. We had the BEST dinner ever there! My goal was to try different foods, so I had lamb chops. (At the Isles of Glencoe, I actually ate haggis and black pudding!!!)
We woke up early to head to Skye, and after a delicious breakfast, we were on our way! Knowing that petrol stations were few and far between, I made sure our first stop before we crossed the Skye Bridge was fuel and snacks. We drove along the coast since we couldn't check into our rental house until 4:00. We stopped at quite a few places, including Old Man Storr, the dinosaur footprints, Duntulm Castle, and the grave site of Flora MacDonald.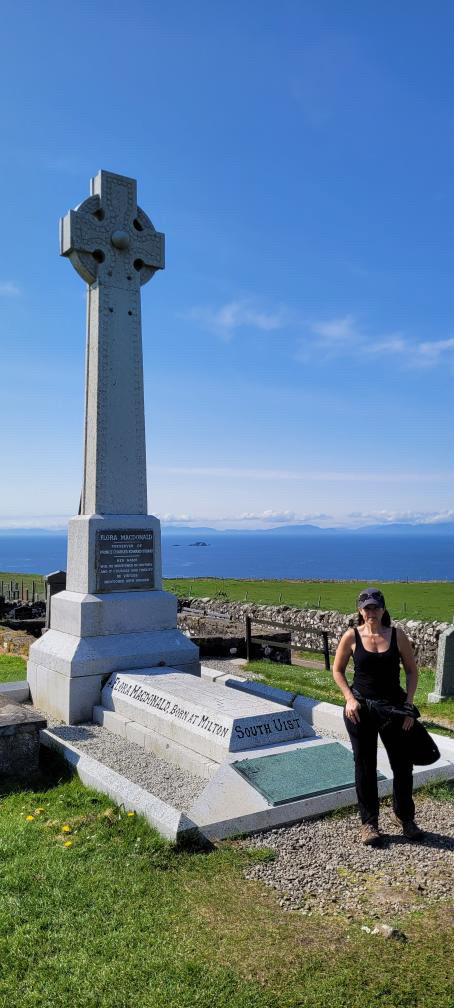 After a full day of driving and exploring, we were thrilled to be able to check into the Black House H at Harlosh!! It was exactly what we hoped it would be!!