We left Inverness and headed toward Glencoe on Tuesday morning for the Highland Titles Gathering. Stopping for a good breakfast is in the top "musts" for me when we are traveling, and I knew there would be places in Fort Augustus. During our first trip to Scotland in 2018, we stayed at the Abby in Fort Augustus, so we were familiar with the area. One of the things we didn't do on our first trip was stop at Urquhart Castle. That was our first stop. However, it didn't open until 9:30, and I was hungry plus ready for coffee, so we walked up the hill and took pictures from the road. I also saw on Google Maps that there were standing stones along the way. So we took a quick detour. However, I didn't want to walk through the field in the rain, so again, I took pictures from a distance.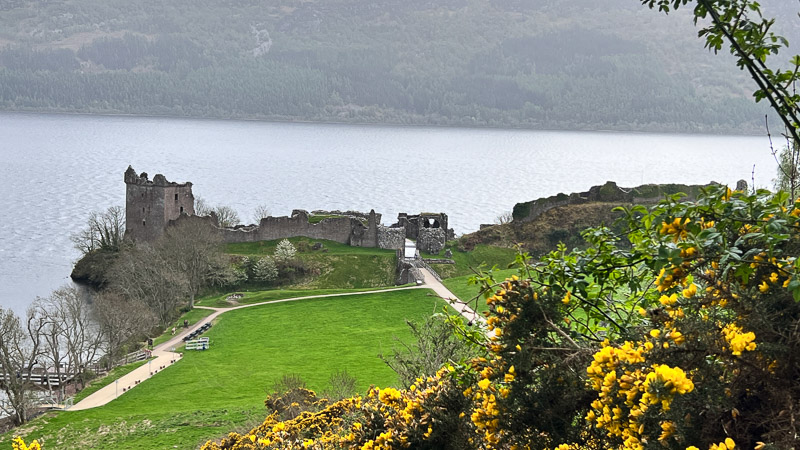 Breakfast in Fort Augustus was somewhat of a bust…. on our second cafe, we did have delicious scones, but it wasn't the full breakfast I was hoping for… Oh well, I did get a good coffee. They sprinkled cocoa powder on the top of the cappuccino, which was new to me, but I did enjoy it! We walked to the Loch Ness again too!
Before we checked into our hotel at Glencoe, we drove into town. We found the Glencoe Forest and the MacDonald Massacre Memorial. I have MacDonald ancestors, and it's hard to describe my feelings and emotions as I walked up to the monument. The forest was exactly what our soul needed….. giant trees, grass, water, and stillness!
The gathering was held at the Isles of Glencoe Hotel. We ended up with a lake-side room with the best views. The event was fun, and we had dinner with a couple from Rome who's first language was not English! We had a blast trying to understand each other! We also got to tour our property in the Glencoe Reserve. Seeing the endangered Scottish Cat was extra special.
During the afternoon of the second day, we played hooky. We drove to Oban, where we toured McCraig's Tower, the Fairy Maze, hiked along Ganavan beach, and the Dunstaffnage Castle, built by Curtis' twenty-fifth grandfather. Glencoe and Oban were one of our favorite areas to visit again!