A little over a week ago, the three of us, Charla, Curtis, and I boarded a plane headed to Montana. After an entire year, we were finally off to a tradeshow! Quinn's Hot Springs in Paradise, Montana, was our destination. They were hosting the Hot Springs Connection. In 2019, we attended the second annual Hot Springs Connection in Desert Springs, California. Feeling like this was our niche, we made sure we were on the list of exhibitors for this year.
We wanted plenty of time to enjoy the resort, so we decided to fly in on Sunday evening. The opening was on Monday evening, giving us time to rest and set up without rushing. Our flight landed in Missoula around 9:30 pm, but by the time we got in our car and stopped at Walmart (snacks… it's all about the snacks), it was dark when we started toward Quinn's.
Before I get too far into our story, I want to let you all know about a new to me app that we tried for this trip. It's called Turo. They refer to it as the AirBnB of car rentals. Typing in our dates of the trip and the location gave me a list of rental cars available. Individuals actually rent them instead of a car rental company. I carefully read all the reviews, not just on the app but also on the car we decided to rent. Kevin was the guy who had his Mazda CX-5 listed. He had great reviews and was terrific to work with the entire trip. I was highly impressed and will be using this app again for sure…. Now back to the trip…
As I mentioned, it was dark driving to Quinn's Hot Springs, so we didn't get to see much of the landscape or the mountains that evening. We arrived around 11:30 pm and checked into our cabin. We were pretty tired from traveling that as soon as we settled into our room, we crashed into bed. 
Being the morning person I am, and whose body clock stays on a schedule no matter the time zone, I woke up bright and early. I tried to stay in bed for a while, trying not to wake the other two, but the mountains and sunrise were calling. I snuck out of the room for the first glimpse of the Rocky mountains… I was not disappointed; in fact, I was so excited I quickly came back inside to get my shoes so I could walk down to the river. Curtis was awake, so he went with me. We both love to explore while everyone else is still in bed. The resort was quiet as we headed out. The sun was coming up over the mountains, and it was breathtaking. We went in for a quick latte for me at the coffee shop on location and continued down to the river. There aren't enough words to describe the view, how it felt, how peaceful it was or even how clean it smelled. I couldn't stop smiling or feeling immensely grateful for the life we have built, including this business that allows us to go to these fantastic places and meet such amazing people and businesses!
We stayed out for a bit that morning and then headed back to the room. Since it was getting closer to lunch, we decided to get dressed and head to the restaurant. Of course, the food was excellent… In fact, it was so good I forgot to take a picture… What??? Yep, fail number one! After lunch, we decided to set up our exhibitor table and then relax before the event started that evening.
The venue for the event was unbelievable. The view over the river with the mountains as the backdrop was breathtaking. I kept walking out of the exhibitor hall onto the deck in disbelief that we were really there!. The first night was a great opening; there were over 150 attendees that represented Hot Springs locations all over the US. Appetizers, drinks, and amazing people made that first night a fun evening.
The next morning, we got up early to hit the hot springs pools before the exhibitor hall opened. Again, all I can say is breathtaking! Quinn's has thought of every last detail to make your experience unforgettable, and they go above and beyond making sure you are comfortable and welcomed. The whole week was one of the best experiences we have had. Fail number two was getting a picture of Curtis in one of the bathrobes that they provided. Just think of Cousin Eddie in National Lampoon, and you will get what I mean! I still giggle when I think about it. The hot springs pools were a perfect way to wake up in the morning!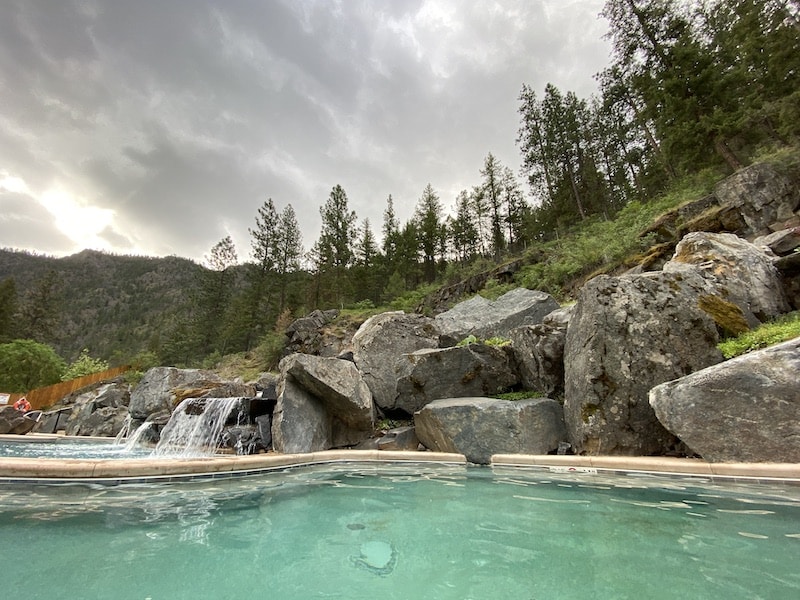 As one of the event sponsors, we were given the opportunity to host the lunch plus provide a presentation. Charla knocked it out of the park! If you want to watch her presentation, here is the link to the video. We are excited to continue to work with this organization and the businesses as well. Durango Hot Springs gave us their blessing to share that they are one of our clients. They graciously shared that if anyone had any questions, to talk with them directly as well!
During the final dinner of the event, we had the opportunity to sit at the same table with three wonderful women who help keep Quinn's the unbelievably breathtaking place that it is. We were able to learn the history of the resort and all the additions and progress they have made. It was the perfect way to end this trip and also started my planning for the next one.
One of the fun facts of the area is that huckleberries are very popular in this region and are used in many types of dishes. I can attest that the Huckleberry Martini is worth trying, and the huckleberry syrup on our dessert was as good as it looks!
All in all, we had a fantastic time at the Hot Springs Connection. I personally would like to say a huge thank you to Vicki and her team for organizing this event and to Quinn's Hot Springs for their amazing hospitality! We will be back!