Last weekend, we went on an adventure to celebrate my birthday. We left early Friday morning and took the back roads to St. Charles, Missouri. Our first stop was in Washington, Missouri…. can you guess where? It should be no surprise to anyone that our first stop was at a local coffee shop called Underground Espresso! They serve coffee flights! It has been something that I have wanted to try for a while now. I thought it would be fun to order both of us flights since Curtis is a chai tea drinker, and I usually just order a latte or a cappuccino. I love trying different drinks that we wouldn't usually order. Surprisingly, the Honey Lavender Latte was really good!

After we left the coffee shop, we drove through wine country! We got to see the vineyards and tons of wineries. We didn't stop at any of them this time, but it was fun driving through the back roads. You can definitely why the wine tours are popular! They even have trolleys traveling from winery to winery.
It was still early when we got to St. Charles, and we weren't quite ready to check in yet, so we just started walking the historic downtown area. One of the first places we stopped was Sugar and Slice Bakery, and we each ordered a macaroon to try. The weekend was filled with good food and so many fun things!
Curtis had made reservations for the Boone Colonial Inn, described as a "19th century home, located in the heart of St. Charles' National Historic District. Step back in time, into a colonial five-star luxury that Thomas Jefferson would appreciate." There are four different themed rooms. Our room was the French Colonial Suite with a jetted tub that was really nice! It is on the ground floor and faces the street, so we were people watching as they passed the window.
That evening, we ate at the Tompkins Riverside. I ordered salmon and brussels sprouts which were delicious. We also had sourdough bread as an appetizer. Tyler, our waiter, told us that the sourdough starter had been kept alive for 5 years. The food was made from scratch and sourced locally. I really enjoyed the meal! After a delicious dinner, we decided to relax for the rest of the evening, especially since Curtis had rented bikes to ride on the Katy Trail the following morning.

Saturday morning, we got up and went for breakfast at Frontier Perk Café. I had a bagel and lox with smoked salmon, and Curtis ordered his favorite avocado toast with an egg. We walked around for a bit while it was still early, and the streets were empty. Later that morning, we walked down to Bike Cafe and rented our bikes. As we rode down the Katy Trail, feeling good and enjoying our ride, we thought riding to the trailhead sounded like a good idea. By the time we were about 4 miles from the trailhead, we had realized we had already ridden 11 miles. We started to think maybe we should call it and turn back, seeing as neither one of us had actually ridden a bike in over a year. Both of us were feeling good, and neither wanted to call it, but I knew we had to turn around and go back! And wouldn't you know it, just as soon as we turned around to head back, a massive wind picked up, and the temperature started to drop. One wind gust was so strong that it literally pushed me sideways, and I thought I would fall over. By the time we got back, we had ridden over 22 miles, and we were ready to be done. So we checked in our bikes, and of course, I got a coffee. I needed the caffeine! All in all, it was fun, and I would do it again when it is a little warmer.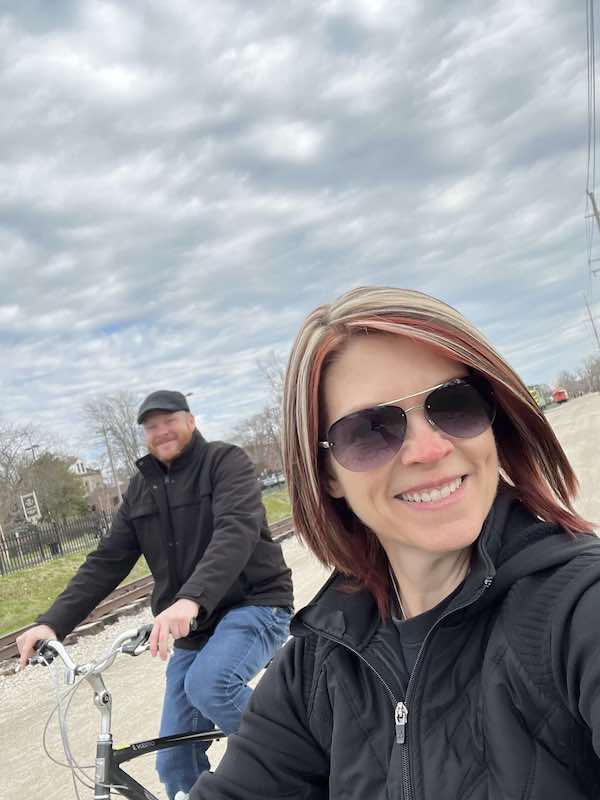 That evening, we finally got the message that said yes, we were on, and we were supposed to meet at 6:15 in the morning. So we set the alarm and packed up everything that evening. Our hot air balloon ride was on!
We met our pilot that morning, and he drove us to where we planned to take off. Two other balloons were going to fly with us. They started setting up, which was so amazing to watch. I can't describe it! Just watching the balloons fill with air during sunrise is indescribable.
We climbed into the basket, and we were off! It is hard to explain the feeling… first off ….. you are standing in a wicker basket 3000 feet above the ground, just floating in the air! Yes, in a wicker basket! It was the most fantastic experience ever. The sounds from the city were just kind of like a low roar or a slight hum from the ground. You could still hear dogs barking and the roosters crowing and things like that, but there is a peace and a disconnect from the real world. It was like nothing else mattered! The peace and serenity that I felt during the entire ride were totally worth it.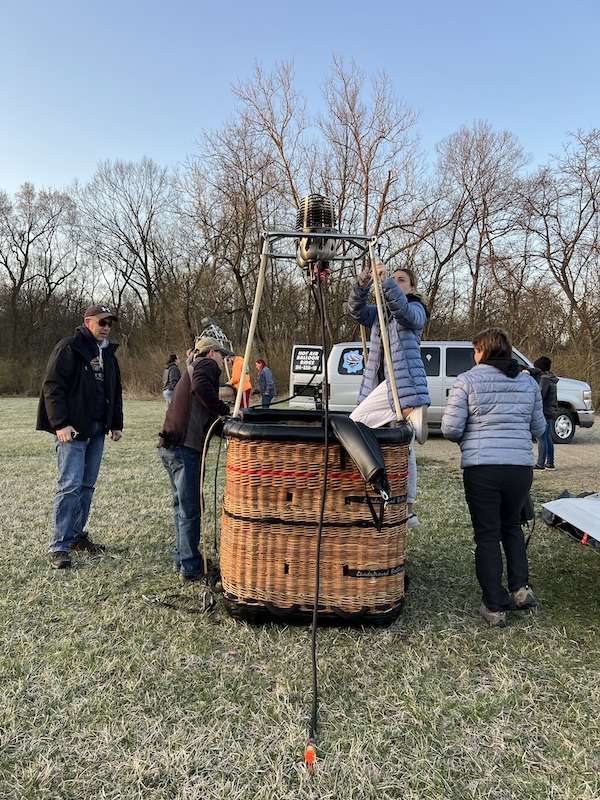 I mean, talk about being on the outside looking in on everything…. It was incredible! Toward the end of our ride, as we were going over houses, you could see people coming, and the kids would look up and get a glimpse of the balloons. While they were waving at us, seeing the smiles on their faces was the most incredible feeling ever! The joy that we were bringing those people was very special!

Our landing was nice and smooth, and we ended the flight with a champagne toast! I couldn't have asked for a better ending to my birthday weekend! If you want to go on a hot air balloon ride, I highly recommend Renegade Balloons. They are very professional and take safety seriously. Mike took the time to explain everything to us throughout the whole ride. His wife, Michelle, was super sweet, and we truly enjoyed getting to know them!
If you want to watch my video check out my Instagram Reel!

I have now decided and declared that Birthday Balloon rides are mandatory!