Charla and I recently had the opportunity to attend three different networking events. While you might be thinking, boy, you all are busy (we agree), in all actuality, the events lined up perfectly so we could knock them out in a "three, two, one, punch"….
I left early on Monday and headed to The Lodge of Four Seasons. I decided that it was time to "treat yo' self" on this trip and booked a massage at Spa Shiki. Charla had meetings on Monday, so she would wait until Tuesday to meet me at our first networking event.
Since it is off-season, checking into the Four Seasons was simple. I was given the keys to our room and told to head to the third floor. While there was a minor issue with the lampshade being in the chair instead of on the lamp when I walked into the room, everything else in the room was as expected. The room was clean, spacious, and even had a small balcony that allowed me a view of the lake. The maintenance man was super friendly and got the lampshade reattached at record speed! He said he'd be back in 10 minutes, and he kept his word!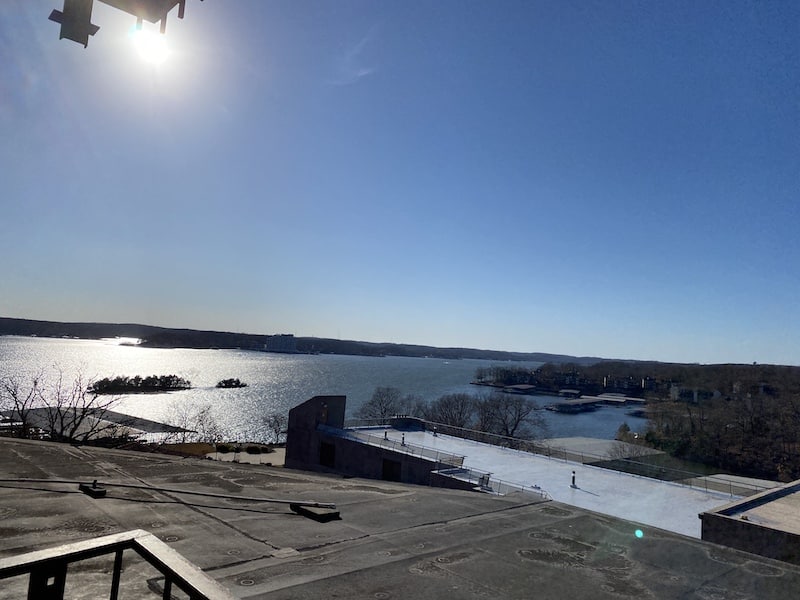 I had a few work calls to take care of before I could take off for the day. As soon as I could hang up the phone, I grabbed my room key, mask ( it is 2020, after all..) and headed to the spa. The ladies at the front desk were warm and welcoming. As I mentioned before, being off-season meant the area was fairly empty. I enjoyed the meditation room while waiting for my massage. (Check out the jelly shoes… bonus points if you actually know what those are!) Jane greeted me and invited me back for a wonderful and relaxing massage. My hour was up way too soon!
The rest of the evening consisted of room service….. that wasn't really room service since I had to get it myself but again – 2020…. Youtube, and a little bit of website work, to round out the evening. Exciting right?? Well, it was exactly what I wanted and needed.
The next morning I got up and met Charla at Dam Good Slice Pizza for our BNI meeting. Tony, one of the guys that attended our Chamber ribbon cutting, had invited us to attend his local BNI chapter the next time we were in town. Since it was the same day as the Chamber's monthly social, we decided this was perfect timing. Fun fact… Charla and I met at a BNI meeting in 2015! That connection was the beginning of our business partnership!
Anyway, back to the BNI meeting at the Lake, we made new contacts while we were there and listened to a great presentation. Some of those BNI members were also Lake Area Chamber members, so we knew we would be seeing them later that evening. It was a good meeting, and we are looking forward to attending again. We did find out that there are 4 BNI chapters at the Lake!
That afternoon, Charla had a hot stone massage at Lotus Wellness Center, while I went and sat by the Lake. The sun was shining, and I had the perfect spot to sit and enjoy the sunshine. We met back in the room and got ready for the evening event.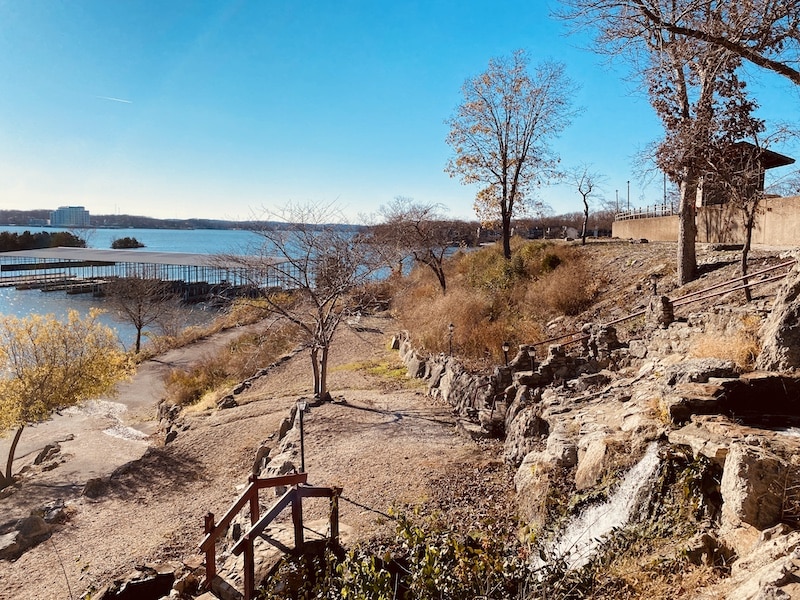 The Lake Area Chamber host a monthly social, and this month it was at JB Hooks. It was very well attended. We talked to quite a few business owners over a glass or two of wine. JB Hooks really takes care of their guests and makes sure it was a top-notch experience.
The following morning was Member Connect with the Chamber. This time it was an online event on Zoom. This was my first time to attend as it's on Wednesday mornings at 9 am. I enjoyed the event, and I am looking forward to attending more events at the Lake.
Before we left the lake, we had a couple of stops we wanted to make; one of them included food. We asked for a recommendation (as I mentioned before… always ask the locals where to eat!) Stewart's Restaurant was the suggestion without hesitation. We chose to have a late breakfast, and it was just as good as they said it would be! One thing we decided to try was the "Largest Cinamon Roll in the area." This picture really doesn't do it justice to the actual size! It has HUGE! I took pretty much all of it home to Curtis!
You might be wondering why we are spending so much time in the area; besides the fact that I love to travel and find new places to experience, the lake area is a demographic that lines up with our software R2M2 Solutions. With it being a complete reservation software system, we would love to show resorts, rentals, and campgrounds at the lake how R2M2 can help their business!
All in all, I feel networking events are perfect opportunities to make great connections and contacts! Do you attend networking events to help your business?